PREMIUM NAD boosters MADE IN EUROPE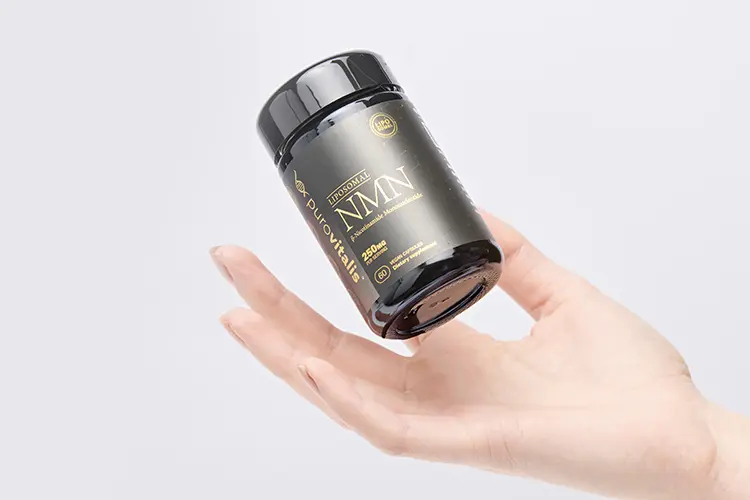 Discover the secret to enhanced vitality with NMN supplements from Purovitalis. NAD, or Nicotinamide Adenine Dinucleotide, is a crucial molecule for cellular energy production and overall well-being. Our specially formulated NAD boosters promote healthy aging, boost metabolism, and enhance resilience. With Purovitalis™, you can trust in the highest quality ingredients, rigorous testing, and a commitment to your health. Elevate your energy levels and optimize your wellness journey by choosing Purovitalis™ for premium NAD boosters. Experience the incredible transformation today.
NMN Supplement | NAD+ Precursor
When it comes to general health and wellbeing, NAD+ boosters are becoming more popular, but what exactly are they?
Coenzyme NAD+ is short for nicotinamide adenine dinucleotide, essential for many biological activities, including DNA repair, immunity, energy conversion from food, and the regulation of circadian rhythm.
According to health experts, at young age, there is a healthy supply in your body. Which keeps you vibrant, young, and maintains good health. This is because it gives a direct link between your cellular signaling and metabolism.
When the natural level of NAD+ decreases, your longevity also decreases. Low levels also increase the risk of several chronic diseases and make visible signs of aging more prominent. But don't worry! By focusing on natural steps you can easily boost your NAD+ levels every day.
NAD boosters are tiny molecules needed to raise the amount of NAD+ in the cell. These molecules are very exciting due to their anti-aging or longevity properties.
The use of NAD Precursor Nicotinamide Mononucleotide or NMN supplements are the quickest way to produce NAD+ in your body. In addition to NAD+ production, they can also provide anti-ageing benefits to the human body.
Our NMN supplements can contribute to cell energy and help your body cells to repair and regenerate. Buy NMN Supplements from Purovitalis today.
0-2 Weeks
NMN Supplements and NAD Boosters improve your NAD+ levels after your first intake. Though some people have not reported any changes in the first few weeks, others have seen increases in energy levels throughout their day. NMN is not like your cup of coffee it is improving energy at the cellular level.
2-4 Weeks
With an increased supply of NAD+, your cells have started to heal and are more robust after 2-4 weeks. Keep up with your daily NMN morning regime as your NAD+ levels are fluctuating simultaneously with your circadian rhythm.
4 Weeks and After
You have refilled your level of NAD+, most of our customers clearly feel an increased level of energy and vitality. As a result, their overall quality of life improved. Want to know your exact levels of NAD+ try our NAD+ test kit.
NMN Supplement & NAD Booster FAQ