Longevity Books Recommendations
From lifespan to health span. Purovitalis book recommendations on longevity.
Reading promotes mental health and your general knowledge
The Health benefits of reading cannot be overstated. Reading offers profound physical and mental health benefits. Simply reading a book 30 minutes a day can confer numerous benefits. We've prepared a collection of books about aging, health and longevity that are both educational and inspiring.
Lifespan: Why We Age—and Why We Don't Have To
- DAVID A. SINCLAIR, MATTHEW D. LAPLANTE
For decades, the medical community has looked to a variety of reasons for why we age, and the consensus is that no one dies of old age; they die of age-related diseases. That's because ageing is not a disease – it is inevitable. But what if everything you think you know about ageing is wrong? What if ageing is a disease? And that disease is curable.

In LIFESPAN, Dr. David Sinclair, one of the world's foremost authorities on genetics and ageing, argues just that. He has dedicated his life's work to chasing more than a longer lifespan – he wants to enable people to live longer, healthier, and disease-free well into our hundreds. In this book, he reveals a bold new theory of ageing, one that pinpoints a root cause of ageing that lies in an ancient genetic survival circuit.
Life Force: How New Breakthroughs in Precision Medicine Can Transform the Quality of Your Life & Those You Love
In this book, Tony Robbins, the world's number one life and business strategist who has coached more than fifty million people, brings you more than 100 of the world's top medical minds and the latest research, inspiring comeback stories, and amazing advancements in precision medicine that you can apply today to help extend the length and quality of your life.

This book is the result of Robbins going on his own life-changing journey. After being told that his health challenges were irreversible, he experienced firsthand how new regenerative technology not only helped him heal but made him stronger than ever before.

Life Force will show you how you can wake up every day with increased energy, a more bulletproof immune system, and the know-how to help turn back your biological clock. This is a book for everyone, from peak performance athletes, to the average person who wants to increase their energy and strength, to those looking for healing. Life Force provides answers that can transform and even save your life, or that of someone you love.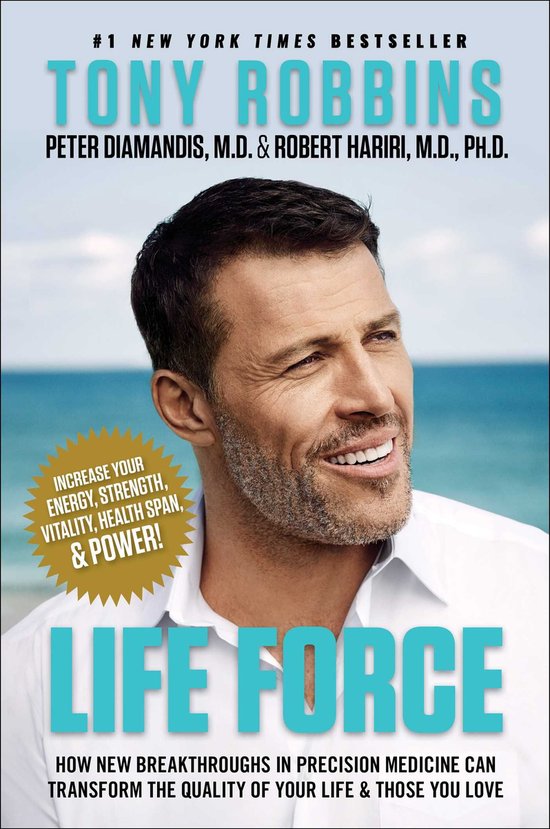 Ending Aging: The Rejuvenation Breakthroughs That Could Reverse Human Aging in Our Lifetime
- AUBREY DE GREY, MICHAEL RAE
Pitting himself against the entire scientific establishment, cutting-edge Cambridge University researcher Aubrey de Grey argues that many of us can live up to 1,000 healthy years. In ENDING AGING, Dr. de Grey and his research assistant Michael Rae describe the details of this biotechnology. They explain that the aging of the human body, just like the aging of man-made machines, results from an accumulation of various types of damage. As with man-made machines, this damage can periodically be repaired, leading to indefinite extension of the machine s fully functional lifetime, just as is routinely done with classic cars. We already know what types of damage accumulate in the human body, and we are moving rapidly toward the comprehensive development of technologies to remove that damage. By demystifying aging and its postponement for the non-specialist reader, de Grey and Rae systematically dismantle the fatalist presumption that aging will forever defeat the efforts of medical science.
The Longevity Paradox: How to Die Young at a Ripe Old Age
From the moment we are born, our cells begin to age. But aging does not have to mean decline. World-renowned surgeon Dr. Steven Gundry has been treating mature patients for most of his career. He knows that everyone thinks they want to live forever, until they hit middle age and witness the suffering of their parents and even their peers. So how do we solve the paradox of wanting to live to a ripe old age–but enjoy the benefits of youth?
This groundbreaking book holds the answer. Working with thousands of patients, Dr. Gundry has discovered that the "diseases of aging" we most fear are not simply a function of age; rather, they are a byproduct of the way we have lived over the decades. In The Longevity Paradox, he maps out a new approach to aging well–one that is based on supporting the health of the "oldest" parts of us: the microorganisms that live within our bodies.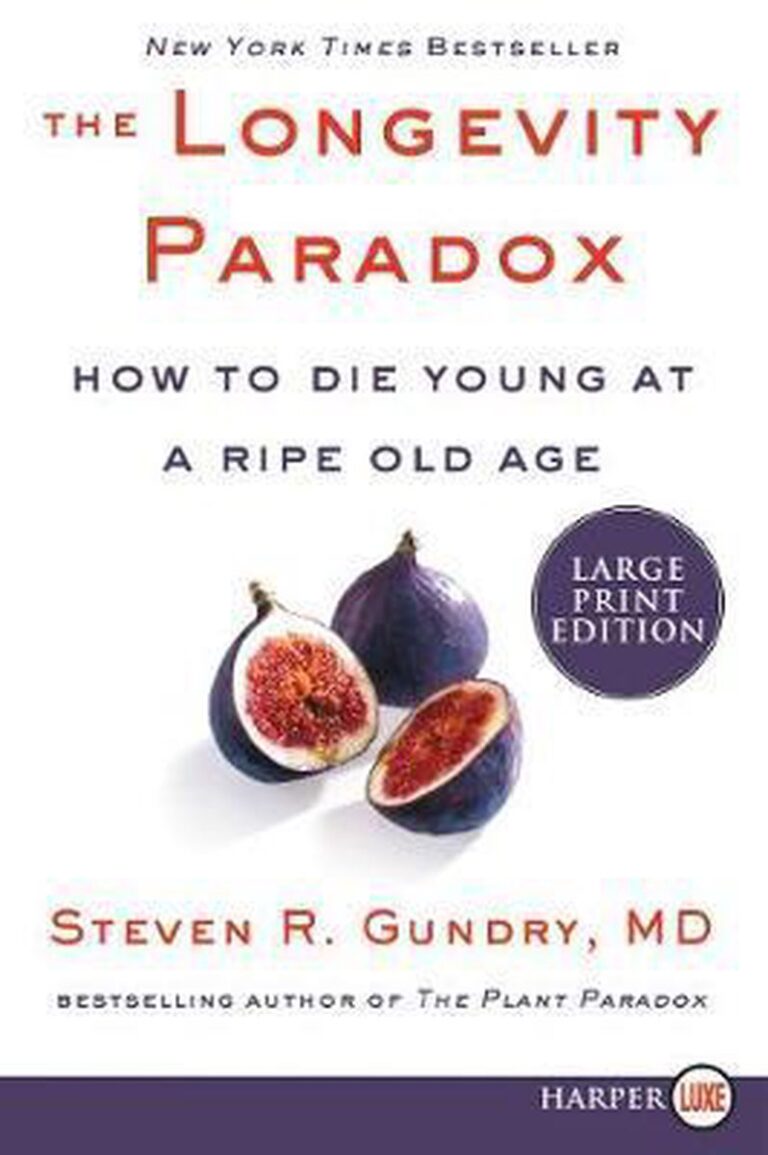 Breath: The New Science of a Lost Art
No matter what you eat, how much you exercise, how skinny or young or wise you are, none of it matters if you're not breathing properly.There is nothing more essential to our health and well-being than breathing: take air in, let it out, repeat 25,000 times a day. Yet, as a species, humans have lost the ability to breathe correctly, with grave consequences. Journalist James Nestor travels the world to figure out what went wrong and how to fix it. The answers aren't found in pulmonology labs, as we might expect, but in the muddy digs of ancient burial sites, secret Soviet facilities, New Jersey choir schools, and the smoggy streets of São Paulo. Nestor tracks down men and women exploring the hidden science behind ancient breathing practices like Pranayama, Sudarshan Kriya, and Tummo and teams up with pulmonary tinkerers to scientifically test long-held beliefs about how we breathe. Modern research is showing us that making even slight adjustments to the way we inhale and exhale can jump-start athletic performance; rejuvenate internal organs; halt snoring, asthma, and autoimmune disease; and even straighten scoliotic spines. None of this should be possible, and yet it is. Drawing on thousands of years of medical texts and recent cutting-edge studies in pulmonology, psychology, biochemistry, and human physiology, Breath turns the conventional wisdom of what we thought we knew about our most basic biological function on its head. You will never breathe the same again.
Longevity Code, The: Secrets to Living Well for Longer from the Front Lines of Science
We all know that we age – but do you know exactly how, and why? And do you wonder what you can do – whatever your age – to slow the process so you can live well, for longer? This book comprehensively answers these questions. Medical doctor and polymath scientist Kris Verburgh illuminates the biological mechanisms that make our bodies susceptible to heart attacks, strokes, dementia, diabetes, and other aging – related diseases. We learn about the crucial role of poorly functioning mitochondria, shortened telomeres, proteins and carbohydrates, and more. Having explained the aging process at work, Dr. Verburgh then provides the tools we need to slow it down: his scientifically backed Longevity Staircase. This simple yet innovative step- by-step method offers better health and a longer life span through nutrition – currently our best defense in the fight against aging and disease. And with each passing day, advances in biotechnology – once the stuff of science fiction – are emerging as part of the "longevity code." Dr. Verburgh discusses how new types of vaccines, mitochondrial DNA, CRISPR proteins, and stem cells may help us slow and even reverse aging – now and in the future.
The Science and Technology of Growing Young
The prospect of living to 200 years old isn't science fiction anymore. A leader in the emerging field of longevity offers his perspective on what cutting-edge breakthroughs are on the horizon, as well as the practical steps we can take now to live healthily to 100 and beyond.
In The Science and Technology of Growing Young, industry investor and insider Sergey Young demystifies the longevity landscape, cutting through the hype and showing listeners what they can do now to live better for longer, and offering a look into the exciting possibilities that await us. By viewing aging as a condition that can be cured, we can dramatically revolutionize the field of longevity and make it accessible for everyone.
Latest Research On Longevity
Learn everything there is to know about longevity supplements. Recent research simplified for easy reading. And the latest longevity hacks to get your started.
Don't feel for reading? We have selected one of the best podcasts available, so that you can learn even more.